FACE RECORDS was elected the only one Japanese record store in "Record Shop TOP 10 I'd like to visit the most in the world"! (Vinyl Hub investigation)
FACE RECORDS was elected the only one Japanese record store in "Record Shop TOP 10 I'd like to visit the most in the world"! (Vinyl Hub investigation)
We have been selected by Vinylhub for 「The World's Record Stores The VinylHub Community Most Wants To Visit Top 10」 and among the other famous record stores in the US, UK, and Germany, we are the only vinyl record store in Japan which have been picked and have been ranked as Top 9.
VinylHub is a famous website which documents the vinyl record stores through the world and belongs to Discogs which has been known for the largest music database website in the world.
This data had been analyzed statistically and calculated accurately by VinylHub.
It has been posted on the featuring article 「The Top 10 Most Visited Record Stores」on Discog's blog.
Fortunately, we are going to celebrate our 25th anniversary in 2019.
We just released our new original collaboration products with "PEANUTS(SNOOPY)", and we are planning to create more events for celebrating our 25th anniversary.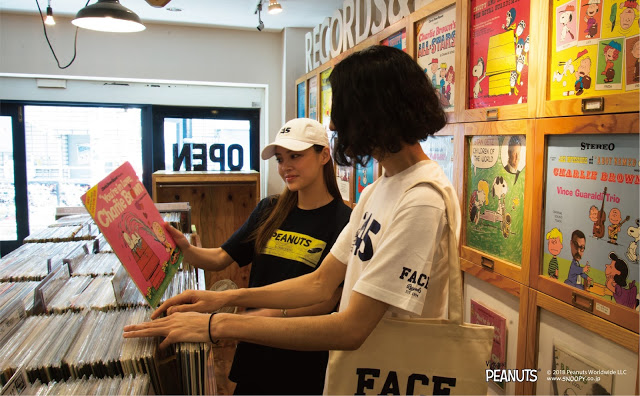 After half a century, the Olympic will be held in Tokyo again, in 2020
If you are planning to visit Tokyo, please stop by our store!
Actually, FACE RECORDS NYC have a lot of good Japanese vinyl records.
Please come to our NYC store!
We will wait for your coming in Williamsburg, NYC!
FACE RECORDS is located in Shibuya Udagawa street cisco hill and has been known as the mecca of vinyl records in Tokyo.
This time, it's an honor to be ranked by VinylHub「The World's Record Stores The VinylHub Community Most Wants To Visit Top 9」and We look forward to welcoming you to FACE RECORDS and FACE RECORDS NYC. Thank you.
●Discogs Blog 「The Top 10 Most Visited Record Stores」
(Published in 2018/5/15)
https://blog.discogs.com/ja/vinylhub-most-visited-record-stores/
●Discogs Blog「Digging in Tokyo: Face Records」
(Published in 2016/5/3)
https://blog.discogs.com/en/digging-in-tokyo-face-records/
Skip back to main navigation